2023
08.28
HOUSTON!  Here I come…
This may not be new news for those of you who follow me across Twitter, Instagram, Fetlife, etc.; but for those of you who didn't already know, I've resumed my monthly Houston travel sessions….
I am excited to announce that my next visit to Houston is scheduled for September 6-8, and booking has already begun.
As usual, I will be taking all my appointments at The Vault, and I would love to make sure that you can get fit into the schedule. Availability is limited, so early booking is strongly encouraged.
Please don't hesitate to reach out if you have any questions or concerns. I look forward to seeing you soon!
Email for booking at neworleansdominas@gmail.com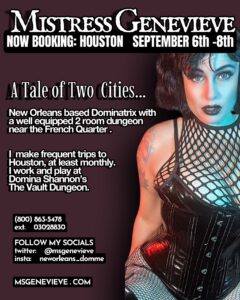 ALSO…
Make sure to connect with me on my new, private Instagram account. I've had a few accounts removed by Instagram due to their spicy content!
(Once you've sent a follow request, please drop me an email to ensure your access. I generally don't approve accounts lacking posts or a filled-out bio.)
This is my ONLY Instagram account,If you come across anyone using my photos or name in a catfishing attempt, kindly inform me. Unfortunately, these scammer accounts persist, and I've encountered instances where my photos and parts of my bio were taken for use on websites and ads online. (Astonishingly, one such scammer was even local, situated on the North Shore!)

Keep it Kinky,
Mistress Genevieve
Follow my new, private Instagram… (my only account, so please report catfish accounts)
Follow me on Twitter for more updates!
CALL ME ON NITEFLIRT!!!

First time callers to my Niteflirt get
3 FREE MINUTES